As we explore the world of the plumb bob we're not surprised to find them in the collection of museums across the country and across the globe. From ancient artifacts to contemporary art the plumb bob has served as a practical tool and an object of inspiration. It has been used as a divining rod, as a symbol for the Free Masons, and as an aid for artists and sculptors. George Washington used one during his time as a surveyor.
Starting tomorrow on Facebook we will feature a plumb bob in the collection of a museum or art gallery every Monday. If you see an item you think we should feature, pass it along.
For those reading the blog, we provide you with a preview of our first Museum Monday entry: an ancient Egyptian plumb bob in the collection the Fitzwilliam Museum, the museum of the University of Cambridge, in Cambridge, England. It is described in their online collection database as a "Basalt Ceremonial Plumb Bob" from ancient times. Learn more about it on the museum's website.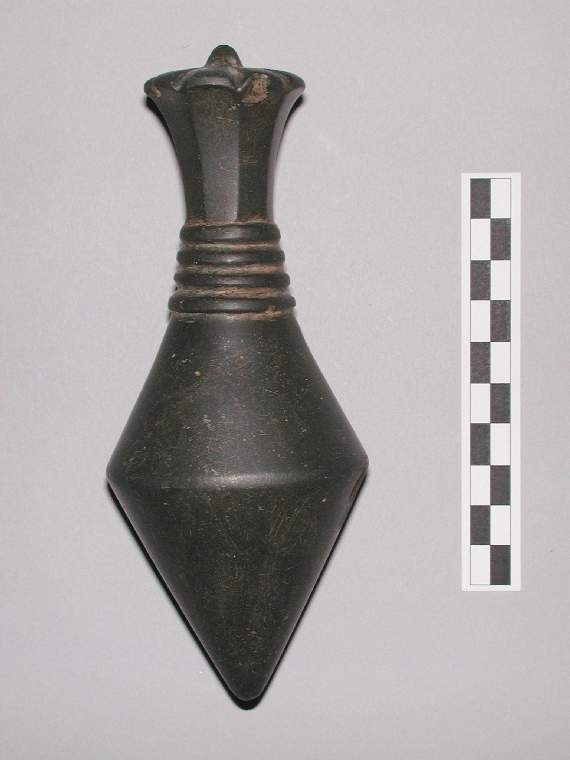 Collection of The Fitzwilliam Museum, University of Cambridge, UK
Title: Basalt ceremonial plumb-bob
Category:measuring/weighing equipment
Name: plumb-bob
Date: circa 332 B.C. — circa 30 B.C.
Description: plummet
Production
Place (legacy): Egypt, production, country
Find Spot: Egypt
Technique: carved
Material: basalt
Dimension: height, 15.5, cm
Acquisition: bequeathed; 1949; Gayer-Anderson, R. G. (Major)
Alternative Number(s): GayerAnderson; IX.60
Accession: Object Number:
E.GA.287.1949
(Antiquities) (record id: 61985; input: 2003-03-25; modified: 2015-04-02)